All the popular streaming formats are supported, including:

Flash™ Video FLV format files – (HTTP and RTMP protocols)

Windows Media™ (HTTP, MMS and RTSP protocols)

Real Audio™ and Real Video™ (HTTP and RTSP protocols)

Mpeg

QuickTime™

Streaming MP3 (Shoutcast™)

Important: WM Recorder is intended for use as a personal archiving tool only. Please respect the rights of the copyright holders of any material you record. WM Recorder can NOT record content protected by Digital Rights Management (DRM).

Requirements

WM Recorder requires Windows Media Player 7 or higher. If you don't have it, you can download it here.

For capturing Real Streams, you'll need Real Player 10 or higher.

Supported Windows versions are 98, ME, 2000, XP, and Vista.
​
Recording Mode Setup



During the installation WM Recorder sets up the default recording mode to ADA (Adapter). If ADA mode cannot be setup the recording mode is set to PRO (Proxy).

ADA mode cannot be setup if:

The adapter monitor program WinPcap failed to install.

Your Internet security software blocks WM Recorder files to access to the Internet.

The network adapter utilized in your computer does not allow access to its data.

In this case we recommend to try to setup the ADA mode manually after the installation is finished. To do this click MODE then click ADA Mode in the Recording Modes dialog.

ADA and PRO are real time recording modes. When operating in one of these modes the recorder can automatically capture and record while playing video or audio from your browser or media player (real time). ADA provides the best capture capabilities and all the stream formats listed above can be recorded in real time. PRO can capture and record in real time only Windows Media and Real Player streams. However if the stream URL is available (known) all formats listed above can be recorded regardless the recording mode selected (see URL recording below).

See The Mode Button for details on ADA and PRO modes.

Note: Streaming Flash recording (FLV files – RTMP protocol) is only available with ADA mode.
How To Record
​
Recording is easy. There are a few different ways to do it – you can record in Real Time, or record from captured URL's. Plus, you can choose AUTO Recording Mode (under the Options button).
Important: After starting WM Recorder, you may need to wait a few seconds for the message "RTMP Capture Enabled" to appear on the main screen.
​
Here's how to record in Real Time:
​
With the default AUTO recording mode enabled (AUTO ON):
​
Using your browser or your media player, play the video or audio you want to record.

Recording starts automatically. The RECORD button turns to STOP. Once the recording begins you can start playing and recording another video / audio clip. There is no need to wait until the play is finished.

To end one or more recordings click STOP and select the desired action from the pop-up menu. If you're recording fixed length clips, TV shows or movies, the recording ends automatically, and there's no need to click STOP.

With AUTO recording mode disabled (AUTO OFF):
Using your browser or your media player, play the video or audio you want to record.

The URL (Internet address) and the File Name of the clip are displayed on the main screen. Click Record to start recording. Once the recording begins you can start playing and recording another video / audio clip.

To end one or more recordings click Stop and select the desired action from the pop-up menu.

Important: If you're having trouble recording, try this:

Close all open Windows Media Player and Internet Explorer Windows.

Open WM Recorder.

Reopen your browser or Media Player.

Click Record.

Play the video to record.

Closing all browser windows and Windows Media Player before opening WM Recorder is necessary when recording using PRO Proxy Mode. In ADA Mode, this isn't necessary.

How to Record using URL Recording

All captured URL's. are saved and you can access them by clicking the View button, and opening the Saved Links window. Highlight one or more URL's. and click the Record button at the bottom of the Saved Links window to record the entire selection. You can also add manually URL's. to the Saved Links data base.

Options While Recording in Real Time

Here are a few useful things that you can do while recording one or more files:

Preview one or more recording files. The files are played back from your computer while the recording goes on. Click Options and select Preview mode.

Turn your computer into an On Demand – Radio/TV player. As an example, record a number of MP3 radio stations. Click OPTIONS, Preview All Recordings. This opens the Media Player with a playlist of all current recordings. You can now switch between all recorded stations, replay favorite songs, skip forward, etc.

Rename a recording file. The file names listed in URL's. do not always show the actual name of the media. You can rename the recording before the recording is finished. to do this Click Options and select Rename Recording.
The Mode Button
​
With WM Recorder, you can capture streams in three ways: Adapter Mode, Proxy Mode and URL Mode. Adapter and Proxy Mode work by starting the recording automatically (AUTO ON) or when you click the Record button (AUTO OFF).
The URL Mode lets you record from saved or entered URL's. without the need to setup a network adapter monitor or a proxy server. This mode should be used if you are not interested in searching the Internet for new video/audio clips. Note that the URL Mode does not change any settings of your computer.
Adapter and Proxy modes monitor network traffic to record, but they do so in different ways.

To change between Adapter, Proxy and URL Mode:

Click the MODE button. The Recording Modes dialog appears: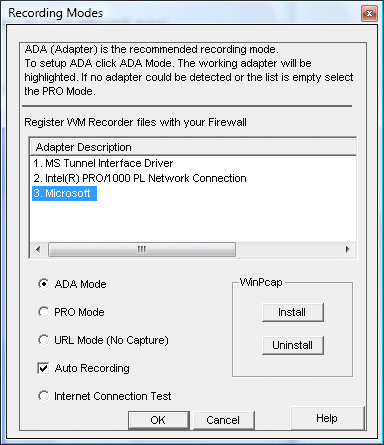 2. Choose a Mode (ADA, Proxy or URL), then click OK.

When choosing ADA Mode, WM Recorder will automatically choose the best Adapter for you. It is always the default adapter that Windows uses. Here's more details on the different Modes:

ADA (Adapter) Mode

Adapter Mode is the preferred recording mode. No changes are made to your computer settings. Successful setup of Adapter Mode depends on the configuration of your network card(s). At the present time we cannot guarantee functionality on every network card in existence.
Note: Adapter Mode cannot be used with encrypted (secured) network adapters.
Proxy Mode

PRO (Proxy) Mode will work with ANY Network Adapter card. The Proxy Mode should be used if ADA Mode is not available or is not working.

A particular use for the PRO mode is the PRO – Auto Recording mode. In this case the entire stream data passes through the recorder. This is recommended when recording streams that require the connection to be initiated from a web site or when web site authentication is needed. Also it is the only way to record Windows Media live playlists.
URL Mode
​
URL Recording mode can be used with any type of connection. No changes are made to your computer settings.
Auto Recording
​
If Auto recording is selected, you no longer need to click Record to start a recording. Every Audio or Video you play is automatically recorded.
​
Internet Connection Test

If you're not sure which mode will work for you, click Internet Connection Test, and WM Recorder will choose the best recording mode for you.
How to Schedule Recordings



There are a lot of live streamed radio and TV stations on the Web, and with WM Recorder, you can schedule a recording to start and stop at a specific time, date or series of days on any station. Up to 50 scheduled recordings are allowed.
Here's how to schedule a recording:
​
If the stream URL was already saved, open View, then choose Saved Links from the View menu. Right click the URL and select Schedule Recording from the popup menu.

Alternatively, if the captured URL is shown in the URL window on the main screen follow the procedure below.

Before adding any shows to be scheduled: make sure the Scheduler is ON. Click Options, Turn Scheduler On to ensure the scheduler is activated.
Play the station for which you want to schedule a recording. Once the station plays, the URL field in the main screen contains the URL of the station, like this:

2. Click the Options button. The Options menu appears.
3. Choose Schedule Recording.
4. Click OK to open the scheduler. (That's the easiest way to schedule.)
5. Set the start and stop date, start and stop time, and any recurring days to record. Click OK when finished.
Editing or Deleting Scheduled Items
​
You can view your schedule (to edit or delete a scheduled recording) as follows:

From the main screen, click View.

Select Menu, Scheduler. The Scheduled shows list appears:
3. Right click the item in the schedule, and choose Add/Change Schedule to edit the item. Click Remove Schedule to delete the item.
Hint: You can use the Windows Task Scheduler to automatically start WM Recorder just before the scheduled time.
How to View and Play Recordings
To see what you've recorded:

Click the View button, then choose Menu, Saved Recordings. Choose the type of recording to view: Windows Media, Real, QuickTime/iPod or FLV. The Saved recordings window appears.
The View window displays the last recording type you selected. To choose a different file type, click Menu, Saved Recordings from the menu, and select a different file type.


Click the file to view, then click the Play button at the bottom of the screen. A Player window opens with your recorded file playing. Or, select more than one File Name then click Play to create a playlist and play the entire selection.
The Status Window
​
Any time a recording begins the Status Window is displayed showing the recording activity of all current recordings. If the Status Window is covered by the browser or other full screen windows click the Status button to make the Status Window visible:



This screen shows the progress of each active recording.

The DL Time is the time it took to download and save the file, and not the number of minutes of video or audio that will play. For many high speed connections, you will be able to record a video a lot faster than the time it takes to watch it.
You can also select recordings and perform various operations on them by right-clicking or clicking Options to display the pop-up menu. Here are the options:
Stop Recording(s) stop recording the selected items. The message CANCELED will appear.

Set Recording Duration lets you limit the amount of time a recording continues. This is handy for recording live streams.
Preview Recorded File plays the selected file from your computer. The file must be at least 100 KB or the recording time greater than 20 seconds. You cannot seek through a file while the file is being recorded.

Record Again rerecords the file, and does not overwrite the existing file.

Rename Current Recording allows you to rename the output file.

Play Remote Stream lets you play what you're recording. You can watch or listen and record simultaneously!

Remote Server Response shows the HTTP or RTSP messages sent by the server following the request to access the stream. This feature is not available for TCP (mms) streams.

Close All Recordings terminates all active recordings and closes the Recording Window.

Cool trick: If you have a favorite streaming site which interrupts video feeds with commercials, you can use the Preview Recorded File option to watch many shows commercial free!
The View Window
​
When you click the View button, you'll be able to access a variety of status and information screens from the View menu. This section describes those views in detail:
Captured Links
As you play audio and video, WM Recorder captures the links you have visited. This makes it easy to return later and record something.
Saved Recordings
This screen shows you what you've recorded. From the Saved recordings menu, you can choose the type of recording to view. Select a show and right click it to play, record it again, resume a recording, split a recorded file, or reprocess a recorded file and make it seekable.
Saved Links
Like Captured Links, Saved Links shows you what you've played, but contains a longer history. Right click any URL to record it, schedule it, play it, or add a login and password to it (for recording subscription content).

Recordings Folder

Select this option to view all your recordings within the Windows File Explorer.
Cached Links

If you're using Internet Explorer, the audio and video links you've enjoyed recently may still be saved, or cached. This option lets you see those links, and optionally record them using the right-click menu.

If you can't get WM Recorder to record something you've viewed previously, it may be because it's already in the cache. See if you can find it here!
​
Scheduler
If you've set up scheduled recordings, they will appear here. Select a scheduled item and right-click it to edit or delete it, or activate/deactivate the scheduler.

File Download
Need to download a file from a specific URL? Just enter the URL and desired file name, and click OK.



Settings Reference



Click Settings from the main screen to open Settings. Here are the various options described in detail:
Settings – General
Save all visited links: Check this option if you want WM Recorder to keep a history of all URL's. that you have played.
Enable Scheduler at Startup: Makes sure the scheduler is activated when you open WM Recorder.
Minimize in system tray: Creates a small icon in the system tray when minimizing WM Recorder.

Reconnect forever: This option enables an unlimited number of attempts to reconnect to a web file if the first connection request did not succeed for any reason. It includes situations like network cables unplugged, server-not-found or other reasons that would normally make Internet programs terminate the connection process. This option is to be used primarily with scheduled recordings when the computer is not supervised. Do not use it whenever you have the option to manually re-establish the connection. This option is not available for Real Player files and when recording from Windows Media Player in PRO mode. The reconnect time out is 2 minutes. If a connection cannot be established for any reason the recorder will try to reconnect at intervals of 2 minutes. For streaming files, if the connection was established but the remote server shuts down (file not found, access denied, etc) the recorder will try other available streaming protocols. The message "Changing Protocols" is displayed. If the protocol was accepted on an established connection but data is missing the recorder also waits for 2 minutes before trying to reconnect.

Add Date/Time to file names: This option adds the date and time in front of the scheduled recordings file names.

Attach Data Graph RxTx: Want to see how your bandwidth is being used. Check this option to see a handy data graph.

Maximum disk space used per session: If you're tight on free disk space, use this option to limit the amount of data that can be recorded.

Disk Space: See how much free space you have available on all disk drives.

Recordings Folder: Change the folder where your recordings are saved.



Settings – Media Options
Captured File Types: Select the kinds of files you want to capture. In some cases you may not want asx or ram files to be saved in the Saved Links list.
​
Send Player ID: Some streams require a Player ID to be sent. It is recommended to have this option checked.
Check all WMP Protocols: Ensures all Windows Media stream types are captured.
Seekable Files: Post-process Windows Media files so that the seek bar works. This lets you jump to any position in the recording.
Compress Time: If this option is set, any gaps in recording due to buffering pauses are eliminated. The recording will play back without any visible pauses.
​
Real Player Options – Set Recording Speed: Allow you to determine how fast Real streams are recorded.
RM Mirror: Uses a more reliable but slower mode for recording Real streams. Real Player is opened, and recording occurs as Real Player plays.



Settings – LAN Proxy
lf you connect to the Internet via a proxy server, you need to let WM Recorder know. Most setups don't use a proxy server, so you can usually leave this blank.

If your browser (Internet Explorer) connects through the LAN proxy check Use Proxy. This will make WM Recorder use the same proxy port and IP as your browser. Otherwise, you need to supply the HTTP, MMS, RTSP ports and the IP address of your proxy. Note that not all proxy servers support the MMS and RTSP protocols.

You can find out the proper IP address and HTTP port by opening Internet Explorer, and clicking Tools, Internet Options, Connection, LAN Settings.

To setup the LAN Proxy click the button Test Proxy.



Settings – WMR Ports
This setting only affects the PRO (Proxy) mode and is for advanced use.

The ports / IP settings shown above apply to Windows Media and Real Player when the PRO mode is used. In this mode WM Recorder sets up an local proxy using the ports and IP specified in this dialog.

You can see if the player has been configured with these settings by opening Windows Media Player and clicking Tools, Options, Network. For Real Player open Tools, Preferences, Proxy.

If the player is properly configured but you have trouble recording you should make sure that your Internet security software allows WM Recorder to connect using the specified ports or IP's.

Reset Settings: This option should be used in case Windows Media Player or Real Player Proxy settings were not restored to their original values when WM Recorder is closed. Note that Windows Media button only restores these settings for computers that don't use a LAN Proxy. For this situation you should open Windows Media Player / Options / Network and manually enter the LAN Proxy settings.
Options



When you click Options on the main screen, the following menu appears:
Turn Auto OFF turns Auto recording mode ON or OFF.
​
Turn Scheduler On/OFF turns the scheduler ON and OFF.
​
Disable Flash/RTMP capture enables or disables RTMP capture.
​
Stream Flash/RTMP: Select this option if you are on a dial-up connection, or have a slow computer. This ensures you will be able to capture RTMP Flash streams.
​
Schedule Recording: See How To Schedule Recordings.

Rename Recording: Allows you to change the file name of the current recording.
​
Search Cache for Media: If you are unable to capture a video as it is playing, it may be cached on your PC. (This happens for YouTube and other similar sites.) Use this option to locate videos saved already in your cache.

Show Cache Message: Displays a hint about recording files saved in the cache.

Keep WM Recorder On Top: If this menu item is checked, WM Recorder will always remain visible.
Turn Beeps OFF: WM Recorder will beep when recordings start and stop, unless this option is turned off.

View Log File: Open the recording log (for scheduled recordings).

Import WMR 10 files: This option imports the following data from WM Recorder 10:

WM VCR files and settings to the WM Recorder 11 scheduler.

Saved URL's. to the WM Recorder 11 Saved Windows Media URL's. and Real Player URL's.

Check/Enter Registration: View or update your registration code information.

Check Internet Connection: Is WM Recorder being blocked by a firewall? Use this option to find out.
Preview



The Preview button lets you watch what's being recorded. Click Preview from the main screen to see the options.

You can watch a specific recording, or enjoy a playlist of all active recordings.